January 03, 2020 @ 09:01 AM -- by Dr. Jean Barthman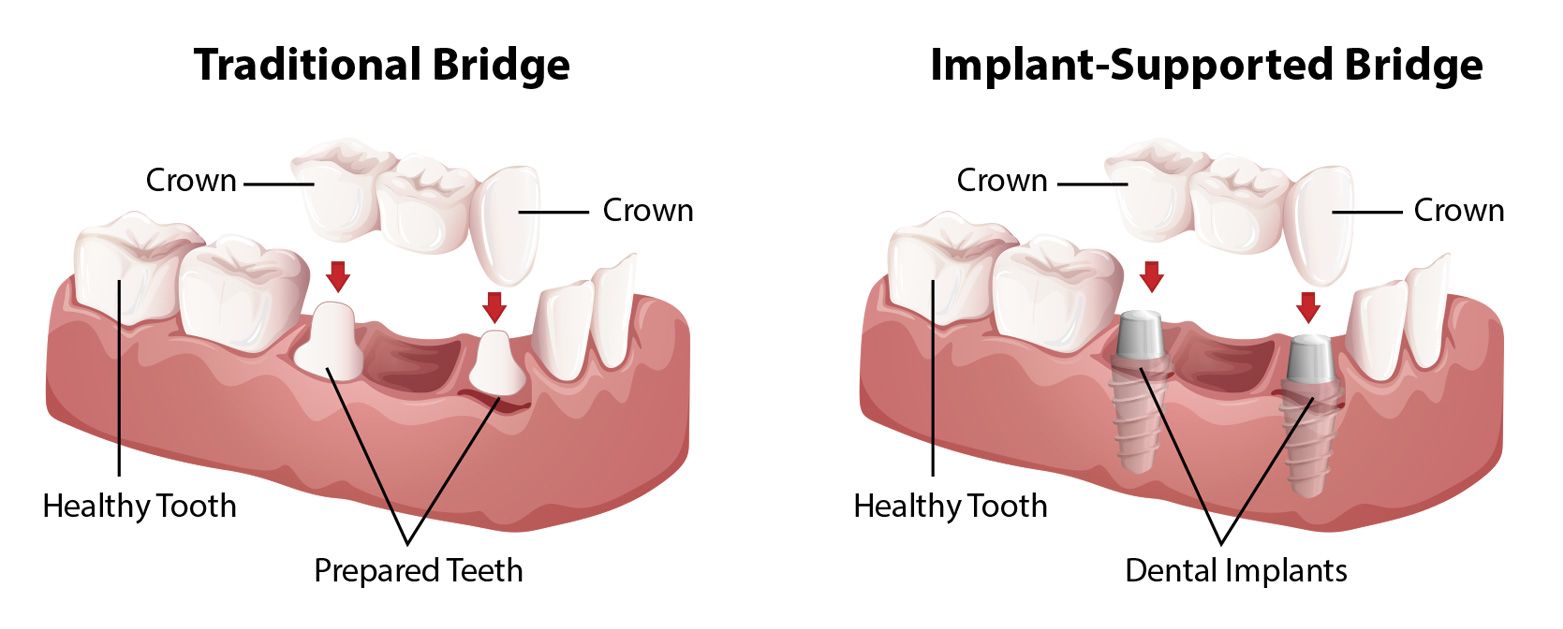 Tooth loss can impede your ability to speak and chew with confidence. Following the loss of one or more teeth, Dr. Jean Barthman can improve your oral health and function with restorative dentistry treatment. We offer a range of tooth replacement options at our Redwood City, CA, dental practice. Two common restorative options are a traditional or implant-supported dental bridge.
Many patients are candidates for both restorative options. If you are unfamiliar with the differences between these two options, read on to learn which option may be right for you.
How Does a Traditional Bridge Work?
A traditional bridge is a great option for the replacement of a single missing tooth or two or three consecutive missing teeth. If you have healthy teeth on either side of the missing tooth or teeth, those teeth can be used to support a bridge. This type of restoration consists of a series of false teeth that are fabricated from a single block of high-quality dental porcelain or another material.
Before your traditional bridge can be placed, the natural teeth on either side of your missing tooth will need to be prepared. This process requires the removal of the outer perimeter of natural tooth structure. Once your tooth is prepped, an impression of the teeth can be made, and your bridge can be fabricated to replace your missing teeth.
How Does an Implant-Retained Bridge Work?
An implant-retained bridge looks similar to a traditional bridge. The main difference is in how it is supported. Dental implants are titanium posts that are surgically placed in the jaw. These posts act as tooth roots and support the implant-supported bridge.
In many cases, an implant-retained bridge uses two implants to support a bridge that is constructed of three false teeth.
Pros and Cons of Dental Implants
Undergoing dental implant surgery requires a more significant investment in time and money, but there are many long-term benefits to dental implants:
Dental implants can last a lifetime.
Implants also promote jawbone health and prevent bone atrophy.
Dental implants can also replace individual teeth through the use of an implant, abutment, and crown.
Pros and Cons of Traditional Bridges
In order to have a traditional bridge placed, two of your natural teeth will need to be significantly altered to receive the prosthetic. Over time, the additional load of the missing tooth can add stress and wear on your abutment teeth.
If you are missing one tooth and wish to undergo a relatively quick treatment that does not require extensive recovery and healing, you may be a good candidate for a traditional dental bridge.
Each patient comes with unique needs and goals. During your consultation at our Redwood City dental practice, Dr. Barthman will listen carefully to your needs and preferences before making a suitable recommendation.
Schedule Your Dental Bridge Consultation Today
Both a traditional and implant-supported bridge can restore oral function following tooth loss. To learn more about which option may be right for you, please contact our office online or call (650) 367-4967.